This year, the DVD boutique, located in the festival Village, will open on Friday, October 11 at 7:30pm and will remain open during the entire festival from 10:30am to 9pm.
This year there'll be countless hours of browsing pleasure over 4000 titles to choose from.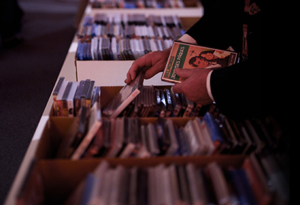 A special section will be dedicated to the Lumière Award 2013 laureate: discover the Quentin Tarantino video club! The club groups together his filmography, his inspirations and recommendations, and the many other references of the QT universe, such as martial arts films and spaghetti westerns.
Find all the features of the program, from Bergman to Hal Ashby, the films brought especially to the festival by their directors, as well as DVDs of the personalities and studios to which Lumière 2013 pays tribute.
Check out the Les Etoiles Universal, collection, available exclusively for the Lumière festival. As part of our homage to StudioCanal you willand the beautiful StudioCanal Collection will be available at the boutique, along with other titles by the film studio.


A fan of Italian cinema or musical comedies? The boutique will be divided into 13 different carefully chosen genres. Recommendations by the British Film Institute for "Kids 14 and under" and The American Film Institute's picks for "The best films of all time" will round out the selection.
If you already have a respectable collection of a true cinephile, you'll appreciate the section dedicated to reissues less than four months old, where you can pick out some rare films. Blu-rays, not to be outdone this year, will have their very own section for diehard fans.
The DVD boutique will also include exclusive titles, signings, events, special guests… Keep up to date on all the latest news on our site and on social media!

 And finally, there will be a team on-site that will be happy to welcome, inform, and advise you.

Opening hours:
The Lumière Village DVD Boutique: 
Friday, October 11 from 7:30pm to 1am
October 12-20, from 10:30am to 9pm.
The DVD boutique sections:
- "The Quentin Tarantino video club"with his filmography, inspirations and recommendations, and many other references of the QT universe
- "Lumière program 2013" features DVDs from this year's program, as well as DVDs of our special guests, personalities, and studios celebrated during this 5th edition.
- Films to see before age 14, recommendations by the British Film Institute
- The 20 top films of all time, chosen by the American Film Institute
- The StudioCanal Collection
- Les Etoiles Universal, a Lumière festival exclusive
- Blu-Rays
- New titles, novelties
- Great classics
- Comedy
- Drama
- Dramatic comedy
- Period films / Musical comedy / Children's
- Italian cinema
- Westerns
- Horror / Sci-Fi / Fantasy
- Action / Adventure
- Thriller / Crime / Film Noir
- War
- Documentary/ Experimental
- Erotic