The festival and Students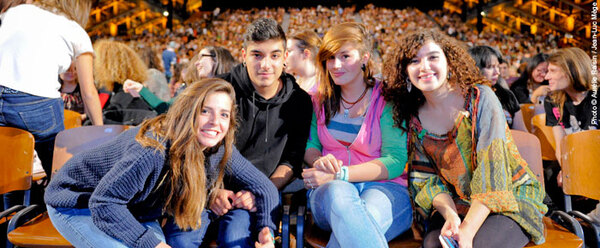 For its 2012 edition, more than 5,000 students throughout the Rhône-Alpes region participated in the festival.


1 / High school students at the festival
The Institut Lumière allows
students of all grade levels to participate in the screenings. A set number of seats is reserved for each screening for students and their teachers. The bus trip is coordinated by a Rhône-Alpes region program. Schoolchildren pay a special rate of 4 € (instead of 6 €).

With the support of

2 / Intermediate and High School students at the festival
From September to the festival, a speaker from the Institut Lumière goes to various high schools and intermediate schools to prepare the students for the screening chosen by the teacher. The speaker explains the main ideas and the organization of the Lumière festival to the students in order to optimize their participation.

Travel package : 40 euros

3 / Workshop in primary and intermediate schools
Cinema experts go to primary and intermediate schools in Greater Lyon to conduct workshops on the themes of the invention of cinema or the language of cinema.

Three topics to choose from:
The History of Pre-Cinema (for ages approximately 6 to 13)
The Lumière Cinematograph (for ages approximately 8 to 15)
The Secrets of the Cinema (for ages approximately 8 to 15)

Travel package : 20 euros


4 / A pedagogical document to be distributed to schools in Lyon New!
8,000 students of "CM1" (ages 7-8) and "CM2" (ages 8-9) in Lyon will receive a fun pedagogical document, "The cinema was born in Lyon," with texts, games, and surprises.


5 / Special screening at the Halle Tony Garnier
Lumière 2010: Le Roi et l'oiseau by Paul Grimault and Jacques Prévert
Lumière 2011: La Guerre des boutons by Yves Robert in the presence of actors
Lumière 2012: E.T. L'Extra-Terrestre by Steven Spielberg
Lumière 2013: Belle and Sebastien by Nicolas Vanier





Reservation required for all of these activities :
Information and reservations with Fanny Guidecoq by phone at +33 (0)4 78 76 77 76 or by email