Cinema Monplaisir
Film and photography marketplace
4th edition
For cinema and photography buffs!
Rue du Premier-Film, district Monplaisir Lyon 8th - Free entry

Saturday, October 19 and Sunday, October 20
,
9 am to 7 pm


During the weekend of the festival, there will be a unique event for lovers of cinema and photography, both for individuals and professionals in the historic district of Monplaisir.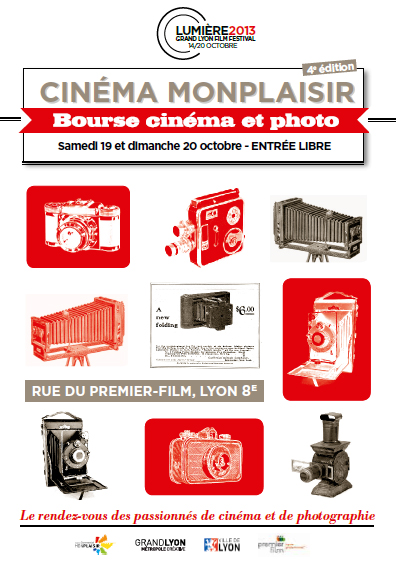 Saturday, October 19 and Sunday, October 20, the public and invited guests of the festival will gather to hunt for rare and interesting finds on the rue du Premier-Film at the foot of the Lumière villa and in front of the festival village. One hundred exhibitors from all over France and abroad will be there to sell, buy, and trade items such as cameras, video cameras, projection equipment, posters, photos, books, unusual objects, music ...

Exhibition:
A tribute to the Buisse and Botazzi company, manufacturers of the famous Lyon projectors of the same name for over 50 years. Discover projectors that have brought fame to the small business and listen to its history as told by the heirs and relatives of the company.

Interactive fun:
Discover the early workings of cinema and photography through interactive devices: a magic lantern, a kinetoscope, a praxinoscope, a thaumatrope as well as a cyanotype, with many other methods to explore.
Dowload the registration form.
Information and contact :
www.lyonbrocantecinephoto.com
lyonbrocantecinephoto@gmail.com
/ 04 72 78 51 34
With the support of





© Photos N. Stecki / L. Benoit