Lumière Award 2013:
Quentin Tarantino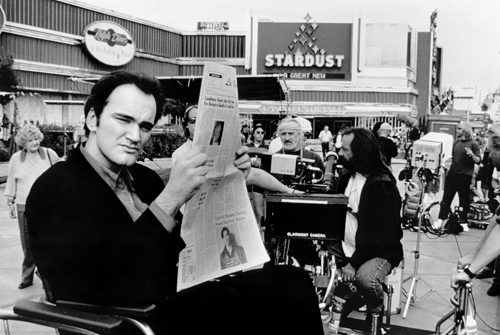 And the 5th Lumière Award goes to...Quentin Tarantino. One of the standout filmakers of his generation, he changed the face of cinema 20 years ago with Reservoir Dogs, and will now take his place alongside previous laureates Clint Eastwood, Milos Forman, Gerard Depardieu and Ken Loach.

Selected by Bertrand Tavernier, Thierry Frémaux and the team from the Institut Lumière, the Lumière Award will be presented to Quentin Tarantino not only for his films, but also for his radiant cinephilia, his in-film tributes to the whole cast of cinematic mythology (filmmakers, actresses, actors, musicians, etc..), and for his personal life-long motto, delivered in the French: "VIVE LE CINEMA!"

At 50, Quentin Tarantino, director, screenwriter, producer and actor, shows no sign of slowing down. He has worked in television, written eight feature films and some 15 screenplays. Receiving the Palme d'Or for Pulp Fiction in 1994, his work has conistently won the adoration of critic and audience alike: Reservoir Dogs, Pulp Fiction, Jackie Brown, Kill Bill: Volume 1, Kill Bill: Volume 2, Death Proof, Inglourious Basterds and Django Unchained have all become classics of the modern screen.

A cult hero the world over, Tarantino's most recent offering, Django Unchained, was also his biggest box-office hit to date. He remains a unique figure within the industry, able to talk cinema for hours on end and to scatter his films with subtle references for the benefit of those viewers who share his mad passion. His strikingly personal and singular cinema dazzles in much the same way as its author: rich, surprising, defying all expectation.

The Lumière Award was created by The Lumière Institut to honor a director in Lyon, the origin of the cinematograph, invented by Louis and Auguste Lumière in 1895, and the location of their first film, Sortie d'Usine. Borne of the desire to express our gratitude to the directors and artists of the cinema who touch all of our lives, the Lumière Award is a distinction that is built upon time, recognition, and admiration.