Monty Python Night:
Barmy British Surrealism/British Surrealism at its Best

SATURDAY OCTOBER 19 FROM 21:00, LA HALLE TONY GARNIER
For 5 years now you've been braving the small hours in your thousands for the after-dark excitement of our All-Nighter, making it one of the most popular festival fixtures.
This year, the All-Nighter is dedicated to Monty Python, the funniest band of British comics of all time (almost, perhaps, though of course time, is relative).
The Monty Python group was formed at the end of the '80s by Graham Chapman, John Cleese, Eric Idle, Michael Palin, Terry Jones and Terry Gilliam. They made waves around the world with their parodic BBC sketch show, Monty Python's Flying Circus, before graduating to the big screen. Brush up on your silly walk, those cult one-liners, dust off your coat of mail and, Always Look on the Bright Side of Life!

On the program for the Monty Python All-Nighter:
Monty Python and the Holy Grail, Terry Gilliam and Terry Jones (1975, 1h30) The quest for the Holy Grail revisited: a laugh a minute feast of zany English humor.
Life of Brian Terry Jones (1979, 1h34) The story of Brian, a burlesque version of Jesus: sublime nonsense as only the Monty Python crew could dream up.
The Meaning of Life Terry Gilliam and Terry Jones (1983,1h46) The meaning of life from the cradle to the grave: a comedy bursting with outrageous humor.
And Now for Something Completely Different Ian MacNaughton (1971, 1h33) Best bits from Monty Python's Flying Circus, aired by the BBC 1969-1973.


This year, the Night Cinema will run from 21:00 Saturday 19 to 06:00 Sunday 20! A makeshift dormitory will be installed behind the screen for the much needed nap-breaks that'll see you through to morning. Those who go the distance will be rewarded by breakfast at dawn, on the house.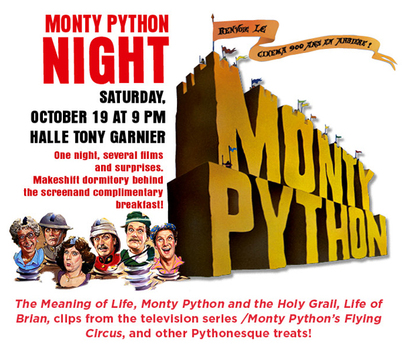 Previous All-Nighters
The Lumière festival first stayed up all night in 2010, with an evening dedicated to American Comedies. The program included Joel and Ethan Coen's The Big Lebowski, Harold Ramis' Groundhog Day, Ten by Blake Edwards and Ben Stiller's Tropic Thunder.

For 2011 we stargazed the night away with science-fiction classics A Trip to the Moon by Georges Méliès, Richard Fleischer's Soylent Green, District 9 by Neill Blomkamp, George Pal's The Time Machine and 2001: A Space Odyssey by Stanley Kubrick.

And 2012 rocked out with a Music and Cinema Night: American Graffiti by George Lucas, Richard Lester's A Hard Day's Night, This is Spinal Tap by Rob Reiner, and James Mangold's Walk the Line.
A rock atmosphere for Music and Cinema Night in 2012!
Photo : A. Leroy
The dormitory behind the screen
Photos : A. Raisin
After the screenings, breakfast


Photo : P. Guichard