"I LOST THAT CAREFREE SPIRIT OF YOUTH. "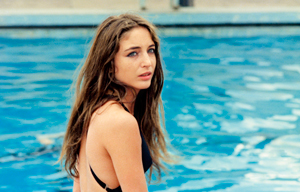 Christine Pascal is a unique figure in the history of French cinema, and a woman of some importance to the Institut Lumière. On the occasion of the anniversary of her death (17 years ago), the festival pays tribute to the young Lyonnaise discovered by Bertrand Tavernier, the Christine Pascal who would go on to become administrator of the Institute Lumière and the Christine Pascal who would sign her name to a handful of remarkable films.
Christine Pascal was 21 years old when she made her film debut in 1973 in Bertrand Tavernier's The Clockmaker of St. Paul (L'Horloger de Saint-Paul). The director would fall immediately under her spell, calling upon her for four further features: Let Joy Reign Supreme (Que la fête commence), The Judge and the Assassin (Le Juge et l'Assassin), 'Round Midnight (Autour de minuit), and Spoiled Children, released in 1977 and presented at Lumière this year.
Tavernier would encourage her to co-write Spoiled Children with him and Charlotte Dubreuil, since Christine's fiery temperament gave her ample inspiration to sketch her own characters. So it would come as no surprise when she stepped behind of the camera. In 1979, she wrote, directed and starred in Félicité, whose mainly and unapologetically autobiographical character would reveal the heartbreaking fragility that we find in each of the four films she would leave behind: La Garce (1984), Zanzibar (1989), And The Little Prince Said (1992), and Adultery: A User's Guide (1995).
And The Little Prince Said, which was a triumph at the Directors' Fortnight in Cannes, led to nominations for two César Awards (Best Director and Best Film) and a win for the Prix Louis Delluc.
Gaumont's beautiful restoration will be presented at the Lumière festival. This exceptional screening will bring justice to the staging, to the exuberant and melancholic photography, and to Richard Berry, here in one of his best roles.
Finally, not to be missed under any pretext, Lumière presents Diary of "Adultery: A User's Guide" by Annette Dutertre, a film that offers a rare insight into the director during the editing process of Adultery: A User's Guide. An extraordinary and unforgettable documentary crafted with intelligence and delicacy reminiscent of Christine Pascal herself, returned here from the past as though she'd never left.

And the Little Prince Said by Christine Pascal (Le Petit Prince a dit, 1992, 1:45)
directed by Christine Pascal (Le Petit Prince a dit, 1992, 1:45)
 Struck by the announcement of the illness of his daughter, the father of Violet (Richard Berry) flees with her to be able to fully share their precious moments together. The director films life as it is: beautiful and unjust.
Comœdia Tue. 10:30am | Pathé Cordeliers Wed. 5pm | Ciné Duchère Sat. 8:30pm

Spoiled Children directed by Bertrand Tavernier (Des enfants gâtés, 1977, 1:54) 
Bernard, a screenwriter, moves into a new apartment to work. He meets his neighbors and joins in their fight against an abusive owner. A superb Christine Pascal has Michel Piccoli firmly under her spell.
Pathé Bellecour Wed. 10:30am | Caluire Méliès Thu. 8:30pm. | Institut Lumière theater 1 Fri. 11am

Diary of "Adultery: A User's Guide" directed by Annette Dutertre (Journal d'un montage, "Adultère, mode d'emploi," 2012, 1:39)
The fascinating story of the editing phase of "Adultery: A User's Guide," Christine Pascal's last film.
Institut Lumière theater 2 Wed. 8:30pm.
All the films will be presented by special guests. The complete list is updated daily and will be posted on this site.