Waves of emotion, roaring applause, and surprises last night at the Halle Tony Garnier...

Touching, touched, moving, moved, but above all terribly handsome and happy to share his emotions; last night, the Lyon audience welcomed a jubilant, smiling Jean-Paul Belmondo.
The evening kicked off with Lumière's trademark punctuality. The house was packed and the audience attentive when Thierry Frémaux took to the Halle Tony Garnier stage at 7:45pm. When the first special guests began to make their way from the red carpet to their seats, announced one by one, the already energetic atmosphere became frenetic with bursts of applause. Among the personalities were festival regulars, old friends like directors Jerry Schatzberg and Claude Lelouch, or the reliable Laurent Gerra, as well as new guests such as the English producer Jeremy Thomas, a flagship supporter of repertoire cinema, and the gorgeous Claudia Cardinale.
With most of the guests seated, Thierry Frémaux left the stage area, heading toward the other end of the red carpet. To the audience's incredible surprise, he returned accompanied by Quentin Tarantino! Thierry Frémaux explains how the cult director changed his flights to arrive ahead of time in Lyon upon hearing that the Opening Night would hold tribute to Jean-Paul Belmondo. The crowd, of course, goes wild with applause and loud elation.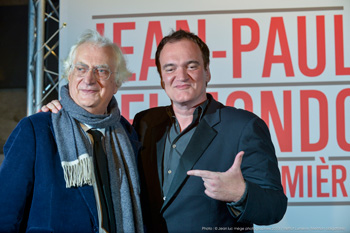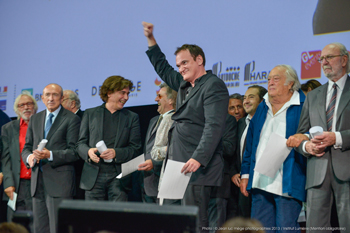 With barely the chance to calm down, all eyes were trained on the curtain near the red carpet. The guest of honor is announced and once again the house is deafeningly on its feet. Jean-Paul Belmondo makes his way down the red carpet slowly, with pride and that certain smile that has moved generations of viewers. The heart of la Halle is beating to the rhythm of a standing ovation, louder and faster with every clap.
No time to take breath though. Thierry Fremaux reclaims the mic and announces the official clip of the Lumière festival 2013, directed as usual by Thomas Valletta, with his signature emotional rollercoaster style that leaves the audience breathless. From laughter to tears, reliving scenes and memories, the film is an amazing tribute to the cinema and to the festival program.
Thierry Frémaux then takes time to specifically thank le Grand Lyon, the Elected officials, the sponsors, the Lumière team, the audience… all the elements that make up the festival. This year especially, how lucky we are!
This edition, the fifth, also commemorates the 30th anniversary of the Institut Lumière. To mark the occasion, the 35 mm film is honored, and three versions of La Sortie d'usine are screened for the festival guests.
…It is now time, the room is plunged into a magical darkness, essential to the theater experience. The projector rolls and the credits come on for A Monkey in Winter by Henri Verneuil.
Vive le Cinéma!
Photos : copyright Jean luc mège photographies 2013 / Institut Lumière