Jean-Paul Belmondo and
A Monkey in Winter by Henri Verneuil
OPENING THE LUMIÈRE FESTIVAL 2013
Monday, October 14 at 7:45 pm, Halle Tony Garnier
Henri Verneuil's A Monkey in Winter will open the 5th annual Lumière festival. The screening will take place on Monday, October 14 at the 4500 capacity Halle Tony Garnier in Lyon with the special attendance of Jean-Paul Belmondo, who shared the bill with Jean Gabin, and to whom he was compared at the time of production. For the occasion, a newly restored copy by Roissy Films will be premiered.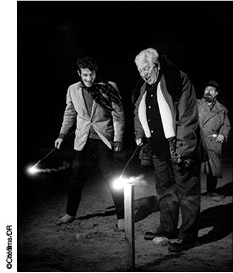 «I haven't seen A Monkey in Winter for forty years and I am delighted to be present at the screening in Lyon to pay homage to Henri Verneuil," declared Jean-Paul Belmondo, a special guest of the festival. Lumière will also feature will screen Jean-Luc Godard's Pierrot le Fou, Jean-Pierre Melville's Doulos: The Finger Man, Claude Lelouch's Itinerary of a Spoiled Child, and Chinese Adventures in China by Philippe de Broca.
Adapted from Antoine Blondin's eponymous novel, A Monkey in Winter was made by Verneuil in 1962, based on François Boyer's screenplay and Michel Audiard's script, and starring Suzanne Flon, Paul Frankeur, and Noël Roquevert alongside Jean-Paul Belmondo and Jean Gabin.

A roaring success upon its release on May 11, 1962, and regular fixture of French television, rights-holders Roissy Films took the initiative to have A Monkey in Winter restored and digitized by Digital Factory, with the support of the CNC. Now for the first time in many years, it will be available to film theatres, distributed by Tamasa International.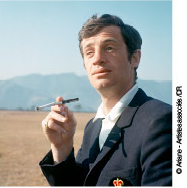 The black and the white of Vernueil's oeuvre (A Monkey in Winter, People of No Importance, Village Feud/ The Hunting Ground, The Lovers of Lisbon, Forbidden Fruit, The President, Any Number Can Win, Greed in the Sun) is celebrated this year, joined by 14 restored Bergmans, works by Hal Ashby, homages to filmmakers Christine Pascal and Germaine Dulac, and a series entitled Art of Noir and a host of events.

The Lumière festival opens at 7:45pm, Monday October 14th, at the Halle Tony Garnier, with many special guests in attendance. With tickets available since late June, the Opening Night has already sold out. Further projections of A Monkey in Winter are scheduled for those who can't make the Opening.

And following Ken Loach, American filmmaker Quentin Tarantino will receive the Lumière Award 2013, to be presented on Friday, October 18, in the presence of many special guests.
Chaired by filmmaker Bertrand Tavernier, the Lumière festival is committed to the celebration of classic cinema.It is funded by the Greater Lyon, the Région Rhône-Alpes, the CNC and the Conseil Général du Rhône. With 250 screenings of 100 films screened in some 40 cinemas and theatres of Greater Lyon, the festival is expected to unite around 100,000 film fanatics in one single week. Beginning October 14, the festival runs to October 20.

See the film clip from A Monkey in Winter



Restored by



Distributed by



Restoration and digitization with the support of the