Dominique Sanda,
the French Greta Garbo.


« I'm burning and I'm made of ice »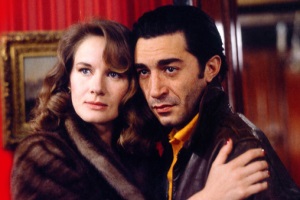 For Dominique Sanda, a French actress apart with such a singular career and that voice, quality ranks over quantity, a fact demonstrates as much by her film choices as her thatre roles. She has worked under the greatest directors, from Robert Bresson, who introduced her to general audiences, to Bertolucci, De Sica, Visconti, John Huston, Jacques Demy, Benoit Jacquot, and many others. Her manner of speaking, along with the depth that radiated from it in each of her appearances, caused the professionals and the audiences to call her, affectionately, "the French Greta Garbo," or, simply, "La Sanda." Her rare and fleeting public appearances (she was spotted at the festival of Rochelle a few years ago) have become even rarer since her departure for southern Latin America, where she now lives.
Much to our surprise, she seized upon our invitation and will grace the festival with a presence that we didn't expect and which thrills us all the more for it. In attendance at the Opening Night, Dominique Sanda will also present A Room in Town (Une chambre en ville) by Jacques Demy, restored by Ciné-Tamaris and the Institut Lumière. She will be accompanied by the equally elusive Richard Berry, who in his turn will present Christine Pascal's And The Little Prince Said (Le petit Prince a dit) during the festival.
Dominique Sanda will be with us for the exceptional "world premiere" of a rarity among rarities, fully restored: Robert Bresson's A Gentle Woman (Une femme douce). An adaptation from the short story by Dostoevsky, Bresson's film was her first starring role and the springing point of her international career. Having never been copied to DVD, A Gentle Woman had become entirely inaccessible to most audiences. Thanks to the distributor Les Acacias, it is back in theaters (from November 6 in Paris and in selectedl film theaters around France). In the meantime, three premiere screenings to choose from in Lyon!
A Room in town will be screened on Tuesday, October 15 at 11am at the Comœdia theater with Dominique Sanda and Richard Berry in attendance. Please note that this will be the one and only exclusive screening of the film!
Purchase tickets

A Gentle Woman will be screened on Tuesday, October 15 at 2:45pm at the Pathé Cordeliers theater and on Wednesday, October 16 at 11:30am at the Institut Lumière in the presence of Dominique Sanda. There will be a third screening on Saturday, October 19 at 11am at Pathé Cordeliers.
Purchase tickets