"Before, I was a character. Now I am an actor. A young actor."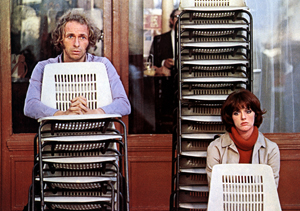 Pierre Richard, the incarnation of the gentle dreamer who's driven us quite crazy with his quiet charm, has long maintained a place in the French collective unconscious. An iconoclastic and unclassifiable figure, so to speak, the actor was immortalized by the role of François Perrin in The Tall Blond series. He went on to interpret François Pignon in the the most realist of Veber's works (1981's The Goat, 1983's Comdads [Les Compère], and 1986's Fugitives [Les Fugitifs]. In a few films, directed by Blier, Veber and Lautner, but also in the films he would direct himself from 1972, he created, well before his time, the archetypal sympathetic anti-hero, blundering but nice, who always ends up turning the situation (just as the hearts of the most inaccessible women) to his favor.
An immensely popular actor with phenomenal success, Pierre Richard is also a director whose work, to his great surprise, would come to be championed much later by a new generation of critics (Télérama, Les Inrocks ...).
As time passes, Pierre Richard has become an increasingly rare presence, devoting his energies elsewhere, particularly to the stage, where he has developed a special interest in scripts dealing with the issue of memory. The public has had the chance to rediscover the man and the actor in recent years on the stage of the Théâtre du Rond-Point in Paris, in Avignon as well, and in the Stéphane Robelin film All Together (Et si on vivait tous ensemble ?).
Pierre Richard will be one of the principal figures at this, the fifth edition of the Lumière festival, 2013. The opportunity to hear some of the secrets behind his passion and drive will be extended to the general public upon the occasion of the screening of his directorial debut The Troubles of Alfred (1972), carefully restored by Gaumont.
He will take advantage of the occasion to host a master class, which will precede the screening of a one-hour documentary film, seldom seen in France, Tell me about Che, 1987. A master class in which the first question will be, "Pierre, what is people's cinema?"


The Tall Blond Man with One Black Shoe, Yves Robert (Le Grand blond avec une chaussure noire, 1972, 1:30)
 In order deceive his deputy and rival, the head of French intelligence passes off a randomly selected man as a highly dangerous spy. Hilarious vaudeville comedy that cleverly parodies the world of espionage.
With the presence of Pierre Richard: Pathé Bellecour Tue. 11am
Other screening: Pathé Bellecour Fri. 2:30pm | Pathé Cordeliers Sat. 2:45 
pm
The Goat, Francis Veber (La Chèvre, 1981, 1:33) 
A French comedy classic borne on the wings of a dynamic duo: Pierre Richard as an inveterate kidder, and Gérard Depardieu as a hapleess private detective. Both aim to bring home the daughter of a CEO, kidnapped in South America…
With the presence of Pierre Richard: Pathé Bellecour Thu. 4pm
Other screenings: UGC Confluence Fri. 8:30pm | Pathé Vaulx-en-Velin Sun. 2:30pm
Tell Me about Che, Pierre Richard (Parlez-moi du Che, 1987, 1:00) In a world where his ideals have been commercially exploited, what remains today of Che's internationalist values and commitments? Pierre Richard and Jean Cormier decamp to Cuba in search of answers.
Institut Lumière theater 2 Thu. 6pm preceded by the master class by Pierre Richard

The Troubles of Alfred, Pierre Richard (Les Malheurs d'Alfred, 1972, 1:33)
 Alfred, an unlucky architect, attempts suicide on the same day as heartbroken Agathe. Pierre Richard spins and twirls with irresistible candor in this hilarious charge against television. Pathé Cordeliers Wed. 11am | With the presence of Pierre Richard: Villeurbanne Thu. 8:30pm 




All the films will be presented by special guests. The complete list is drawn up from day to day and will be posted online.