"If it's difficult for me to talk about her, it's because I have the impression I'm talking about myself."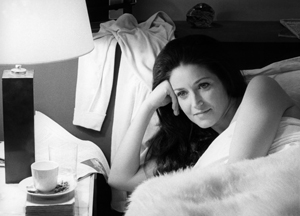 How to explain the phenomenon of Françoise Fabian? That she's on of the most familiar faces of the French cinema screen? That all directors have ardently desired her? This is saying a lot, and yet not enough. Shall we name names, then? Let's say that she has shot with Jacques Rivette, Claude Lelouch, Yves Robert, Jacques Demy, Eric Rohmer, Michel Deville, Nelly Kaplan, Louis Malle, François Ozon, to name but a few…
She who began her career in the theater of 1954 would go on to sign off 100 films, some 50 plays, and about 30 television films.
A liberated woman, strong-minded and with acute sensitivity, she manages to combine beauty and temperament while being highly selective in her choices. She refuses to do commercials early on, for example, but overcomes her shyness to express her admiration to Luis Buñuel, who will give the chance to break type and to consolidate her international reputation in Belle de Jour.
Thanks to Margaret Ménégoz and Losange films, who have restored and digitized almost the entirety of Eric Rohmer's filmography, the Lumière festival will premiere the new print of My Night at Maud's, which the actress considers as her first real role. A favorite of Truffaut's, Rohmer wrote this curious screenplay for Francoise. She read and accepted without hesitation, affirming "It is exactly because it's like nothing else that I want to do it!"
That same year, in 1969, she starred alongside Johnny Halliday in Sergio Corbucci's Specialists, an Italian Western that Quentin Tarantino has personally selected for the Lumière festival.
A woman with a heart as well, Françoise Fabian has had two great loves, director Jacques Becker and actor Marcel Bozzuffi. She remains in active work, alternating roles between the theater and the cinema.
This year she will present the premiere of a restored print of My Night at Maud's before its re-release in theaters at the end of 2013.


My Night at Maud's directed by Eric Rohmer (Ma nuit chez Maud, 1969, 1:50) 
An engineer enjoying the tranquility of a provincial town feels a great attraction to a young woman, who is free and independent. A jewel of the French New Wave with Françoise Fabian and Jean-Louis Trintignant.
Comœdia Thu. 7pm | Pathé Cordeliers Fri. 2:30pm.
Screenings in the presence of Françoise Fabian
Specialists directed by Sergio Corbucci (Gli specialisti, 1969, 1:43, French version)

 Hud (Johnny Hallyday) wants to avenge his brother, who was hanged for having looted a bank. An iconic spaghetti western of cold violence, directed by one of the pioneers of the genre, so admired by Tarantino: Sergio Corbucci.
Pathé Bellecour Wed. 5:30pm | Institut Lumière Sat. 4:45pm
All the films will be presented by special guests. The complete list is updated daily and will be posted on this site.